2050 Projected Population
The mission of the Gaston-Cleveland-Lincoln Metropolitan Planning Organization (GCLMPO) is to plan for a system of transportation modes that are consistent with the development and growth desired for the jurisdictions that comprise the MPO. The system of roadway, transit, freight, aviation, bicycle, and pedestrian travel modes will deliver safe and efficient movement of people and goods. The GCLMPO will strive to implement mobility options that positively coexist with the natural and built environments and strengthen the economic prosperity of the region while promoting community health and wellness.
Are your transportation needs being met?
The GCLMPO is issuing a general call for projects as priorities are being identified to compete for future funding. The MPO will be accepting project ideas covering all modes of transportation: highway, bicycle and pedestrian, aviation, public transportation (transit), and rail.
All written comments and project submittals must be received by June 30, 2023.
The GCLMPO has established a public comment period to amend the following documents: 
2020-2029 TRANSPORTATION IMPROVEMENT PROGRAM (TIP)
2050 METROPOLITAN TRANSPORTATION PLAN (MTP).
The documents will be available for review and public comments will be received from June 1-30, 2023.
The ETC Explorer is an interactive web application that uses 2020 Census Tracts and data to explore the cumulative burden communities experience caused by underinvestment in transportation. Its purpose is to provide a deeper understanding into how communities experience transportation disadvantage to help ensure the benefits of investments address the transportation-related causes of disadvantage. The ETC explorer assesses transportation disadvantage in five components:  Transportation Insecurity, Climate and Disaster Risk Burden, Environmental Burden, Health Vulnerability, and Social Vulnerability.  It is designed to complement Council for Environmental Quality's Climate & Economic Justice Screening Tool (CEJST).
The Database for Air Quality and Noise Analysis (DANA) is a tool created by the Federal Highway Administration (FHWA) to combine traffic data from existing data sources into a single database and process the combined data into properly formatted inputs to EPA's Motor Vehicle Emission Simulator (MOVES) model and the FHWA's Traffic Noise Model Aide (TNMAide).
DANA provides real-world measurements of traffic conditions for use in environmental analyses, instead of relying on transportation models to generate base year traffic data. Finally, DANA helps ensure that environmental analyses use a consistent set of traffic data and processing methods across the entire country. FHWA provides the DANA tool as a resource to stakeholders and use of the tool is voluntary; however, using it may not satisfy all regulatory requirements.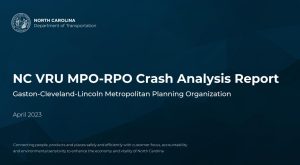 This report summarizes all bicycle and pedestrian crashes in Gaston-Cleveland-Lincoln MPO in a 10-year period. The crashes analyzed occurred between January 1st, 2012 and
December 31st, 2021.
In that 10-year period, there were 1,063 total crashes. 776 were pedestrian crashes and 287 were bicycle crashes.
Find more information here:
Please be sure to visit out our "Funding Sources" page for a more comprehensive list of  funding opportunities!
PROTECT Discretionary Grant Program
The Federal Highway Administration (FHWA) recently announced the availability of $848 million in competitive grant funding for local governments and organizations, including transit agencies, to undertake projects to address the climate crisis. Fiscal Year 2022-23 funding is now available through the Promoting Resilient Operations for Transformative, Efficient, and Cost-Saving Transportation (PROTECT) Program. The competitive grant support projects that improve the resilience of surface transportation systems, including highways, public transportation, pedestrian facilities, ports, and intercity passenger rail.
States, MPOs, local governments, transit agencies, and Tribes can apply. FHWA encourages applicants to use the application checklist when preparing their application. Application Deadline: 08/18/2023
Community Connect Grant Program
USDA Rural Development provides funding to construct broadband networks in rural areas that do not currently have broadband service. Application Deadline: 6/20/2023
The Safe Streets and Roads for All FY23 NOFO Is Open, Now through July 10, 2023
Funds for the fiscal year 2023 SS4A grant program are to be awarded on a competitive basis to support planning, infrastructure, behavioral, and operational initiatives to prevent death and serious injury on roads and streets involving all roadway users, including pedestrians; bicyclists; public transportation, personal conveyance, and micromobility users; motorists; and commercial vehicle operators. Application Deadline: 07/10/2023
The North Carolina Clean Transportation Plan (NCCTP) was created with local, regional and state agencies; transportation providers; non-profit organizations; social justice and equity focused groups; environmentally focused groups; academic partners; clean cities coalitions; advocacy groups; utility providers; and private companies.
The plan outlines the key recommendations and strategies that North Carolina can leverage to prepare for a clean transportation future and provide equitable outcomes for everyone.
Be Rail Safe Informational Workshop
On behalf of NC State University in partnership with the NCDOT, the university is conducting a series of "Lunch and Learn" events for the NCDOT's "Be Rail Safe" program. The focus of the 1.5 hour event is around the topic of safety for pedestrians within the rail right-of-way. NCSU is currently seeking participation from key stakeholders in the surrounding community to bring awareness to the growing problem of rail trespassing accidents.
The Great Trails State Coalition announces the launch of the 2023 North Carolina Year of the Trail campaign. NC Year of the Trail will celebrate and draw attention to North Carolina's vast network of trails, greenways, and blueways. These trails showcase our state's diverse landscapes – from grand mountain vistas to quiet rivers, vibrant urban greenways, coastal forests, and the rolling hills of the Piedmont.
North Carolina Year of the Trail is the largest statewide celebration of trails and outdoor recreation in state history and will firmly establish North Carolina as "The Great Trails State."